I like drinking real ales and am a member of Camra (Campaign for Real Ale).
In England, real beer served from a hand pulled pump in a good old fashioned pub is much nicer than beer bought in bottles or cans.
We are lucky that there are so many small breweries in England, though many of them are closing down or being bought by the large international breweries.
When I get around to it, I shall be trying to list as many local breweries and beers as I can get information about. In the meantime, here are a few local breweries:
Morland Brewery.

| | |
| --- | --- |
| Originally based in Abingdon, Oxfordshire. In 1999, they were bought by Greene King who moved the brewing to Bury Saint Edmunds and closed down the Abingdon brewery, which has now been converted into flats. Morland is most famous for Old Speckled Hen, named after an MG car, and is now exported in bottles around the world. The museum in the county hall at the centre of Abingdon has some memorabilia about the brewery. The Brewery Tap in Ock street also has a room of memorobilia including a certificate showing the sale of the brewery sometime in the late 1800's. Most pubs in Abingdon serve Morland Original and Old Speckled hen. | |

Wychwood Brewery.

Based near Witney, Oxfordshire. They brew a range of themed beers including Hobgoblin, Dr. Thirsty, Dogs Bollocks. They own a series of themed pubs around the country. Many of the large supermarkets also stock their beer in bottles.
Originally based in the centre of Oxford, but was closed down in 1999. They did a good range of beers, but they are now brewed elsewhere. There are a lot of Morrells pubs around Oxford, and since the brewery closure many of them have been revamped into "ale houses", whereby they have been made to look old and filled with strange antiques. Some of them have good beer and are worth a visit, for example the Bookbinders in Jericho has a selection of around 8 real ales in addition to the Morrells beers as well as being used in the first episode of Inspector Morse.

Update: In July 2002, Greene King bought the Morrells chain of pubs, which have been rebranded as Greene King pubs.

Based in the small town of Hook Norton in North Oxfordshire. In 1998 they won the Class 1 Gold Medal and Champion Medal in the International Cask Conditioned Ales Competion at the 1998 Brewing Industry International Awards for its "Hook Norton Best Bitter". You can get a well served pint of Hook Norton Bitter in the Red Lion in Steeple Aston.
Located in Henley On Thames in Oxfordshire, brews a good range of beers.

Update: On 23rd July 2002, Brakspear announced that they were going to close the brewery. Brewing and marketting of the beer will be done as a partnership with Refresh UK who also own the Wychwood brewery. An article in the Oxford Mail on 24th July said that Refresh UK were looking for a site to build a new brewery somewhere near Henley. However the old equipment from Henley was moved to Witney where brewing now continues.

In Abingdon you can get a pint of Brakspear bitter in the Stocks Bar at the Crown and Thistle Hotel on Bridge street.

Small brewery Situated behind the Pot Kiln pub in Frilsham, Berkshire about 20 miles south of Oxford. Difficult to find but worth the trip to this unique pub. Here is a map to help you find it.

This has changed a lot since I wrote the above... its beers are quite widely available in Oxford pubs now, including Far from the madding crowd, and The Aldate tavern

Oxford Brewery

It was the only brewery in the Oxford City area, based in Kidlington. Setup in May 2002 and brewed Cavalier bitter (3.9% ABV) and Oxford Draught Ale (4.4% ABV).

Unfortunately this closed down some time ago.
Check out Pubs in Oxfordshire or Oxford Pub Guide
Also check out the Oxford City CAMRA web site.
For a less conventional view of beer check out Microscopic views of beers from around the world
Making Beer and Wine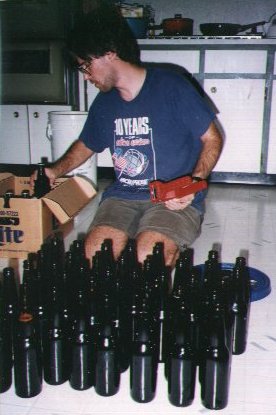 I also like making my own beer and wine. I will provide information here about these subjects soon. In the meantime check out: Oxford Brewing Group